The Most Trusted Commercial Locksmith, Indianapolis, Indiana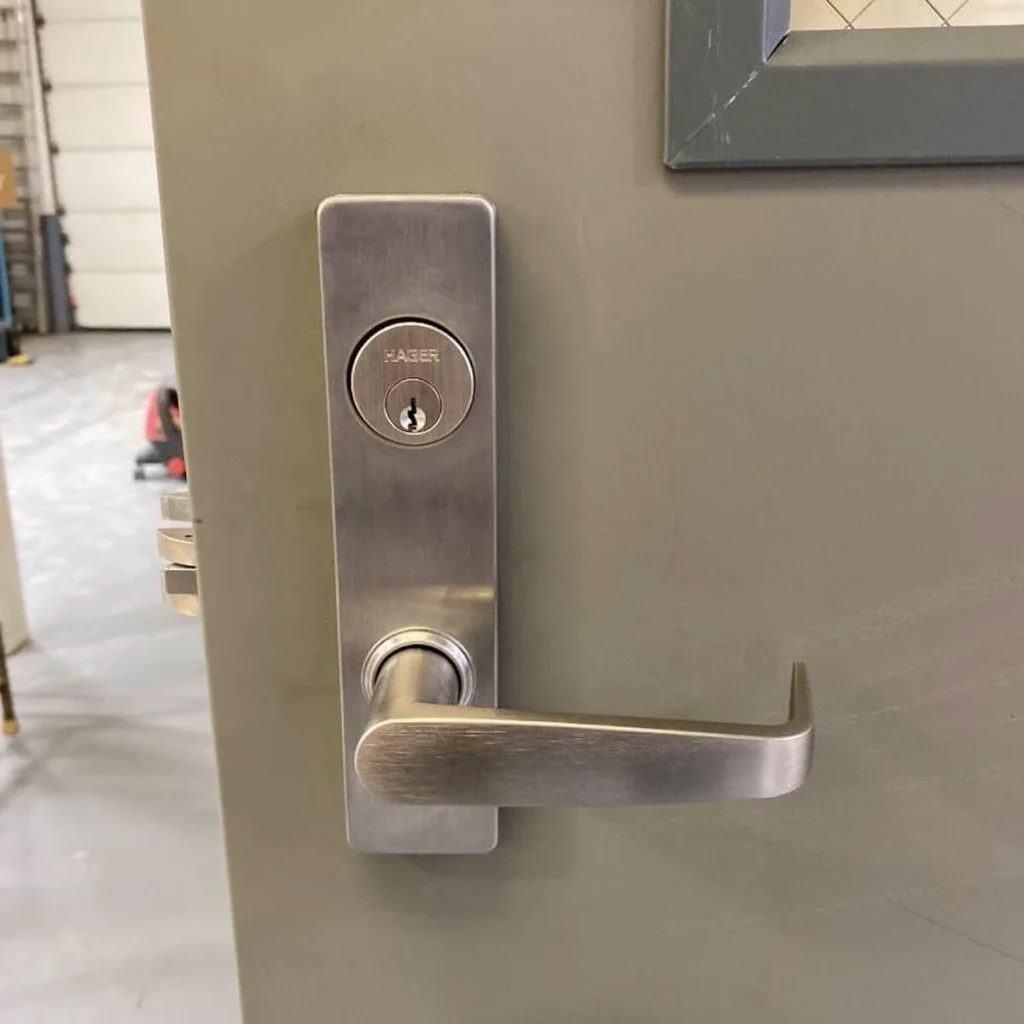 Fastest
Affordable
Trustworthy
On-Time
Why Mobile Locksmith Indianapolis is the Best Commercial Locksmith in Indianapolis, IN
It's no secret that Indianapolis is a prominent place. It's also no secret that it can be hard to find a good locksmith when you're in need of one. That's why our team at Mobile Locksmith Indianapolis decided to make it our mission to provide you with the best locksmith. Indianapolis, IN is our home, and we want to serve you with our high-quality yet affordable service.
Our team of professional locksmiths can help you with any lock-related problem that you might encounter. Whether you need a deadbolt installed or want to install a new keyless entry system in your business, we can take care of it for you!
Mobile Locksmith of Indianapolis has worked hard over the years to build up an excellent reputation as a locksmith. Commercial locks are our expertise, and we pride ourselves on being able to get the job done right the first time by using only quality products and materials. And not only do we provide quality service, but we also take pride in being able to help people who have been victims of theft or other crimes. Our locksmiths are trained and experienced in helping people recover from these situations by providing them with new keys or repairing damaged locks as quickly as possible.
We know you're busy, and we understand that you don't have time to waste on shoddy workmanship or service that doesn't meet your needs. That's why we strive to be the best at what we do. We never leave a job until it's done right, no matter how long it takes.
We're committed to being the best locksmith in Indianapolis, so if you're looking for a reliable company that will take care of all your locksmithing needs with professionalism and care, then look no further than Mobile Locksmith Indianapolis!
Mobile Locksmith Indianapolis Commercial Locksmith Indianapolis Services
Code Compliance Consultation
Electronic Locks Installed or Maintained
Key Control Systems
Locks Changed
Locks Re-Keyed
Locks Repaired
Safes Opened
File cabinet locks
Lock change
New lock installation
Master key re-keying
Peephole installation
Cylinder Locks
High-Security Locks
Keyless Entry
Most Trusted Commercial Locksmith in Indianapolis
You can't rely on just one thing to protect your business—you have to have multiple layers of security. And the best way to do that is with a commercial locksmith in Indianapolis, Indiana.
Mobile Locksmith Indianapolis is the best commercial locksmith in Indianapolis, Indiana. We are a full-service company that can handle all of your commercial locksmith needs, from installing new locks to helping you recover from a break-in.
No matter what kind of business you run, we can help you keep your doors locked up tight and your employees safe. We're an experienced team of commercial locksmiths who know how to get the job done right the first time, every time. We can also provide you with the security of knowing that your business is protected by the best door and lock system available.
We know that no two businesses are alike, so our team at Mobile Locksmith Indianapolis offers custom solutions for every client who walks through our doors. Whether you're looking for simple lock changes or more complicated security upgrades, we'll work closely with you to create a solution that works best for your needs.
If you're unsure of what kind of lock you need or even if you need one, call our team today! Our friendly staff will help you choose a system that fits your needs and budget.
When Do You Need Commercial Locksmith Services?
If your business is located in Indianapolis, you're no stranger to the idea that anything can happen. From a simple lock-out to a full-scale break-in, it's important for every business owner to know how to respond in case of an emergency.
The most common scenario for a commercial locksmith service call is when a customer loses their keys or forgets them at home. This can happen if they are locked out of their car or accidentally left at home after exiting the building. It is also common for businesses to experience employee theft, where someone steals keys from the office and uses them to gain access to other parts of the building.
One of the most important things you can do as a business owner is to have an emergency plan in place before something happens. If you don't have one yet, it's time to start putting one together right away with the help of Mobile Locksmith Indianapolis! We know exactly what it takes to keep your business safe from intruders or vandalism attempts, which could lead to thousands of dollars worth of damage!
Another common reason for needing a commercial locksmith is if an employee has lost their keys. Because this can cause disruptions in productivity, you must call us immediately so we can quickly replace the lock without causing any downtime for your company.
Also, suppose your business deals with big ticket items or has expensive equipment. In that case, it's also a good idea to consider hiring a commercial locksmith to install security cameras and alarms around the building where these items are stored. This will help deter thieves from stealing them offsite while being transported inside large trucks or by hand between different locations in town.
Good thing Mobile Locksmith Indianapolis is here to help you solve all your business' security needs. We provide the highest quality of commercial locksmith services in the greater Indianapolis area at affordable prices so that you can focus on your business instead of worrying about security. Call us today!
Commercial Locksmith Services Indianapolis
At Mobile Locksmith Indianapolis, we pride ourselves on providing our clients with a wide range of commercial locksmith services. From the moment you contact us, we are committed to providing you with an efficient and cost-effective solution that will meet all your needs.
We have a team of highly trained experts who have been working in this field for many years and have extensive knowledge of all types of commercial locks. We understand that every business is different and that each set of doors has its unique requirements. This is why we offer a range of services, from simple lock repairs to complex master key systems.
Our expert technicians can help you with any kind of commercial locksmith service, including:
Emergency 24-Hour Commercial Locksmith Services
High-Security Electronic Key Systems
Access Control Systems
Master Key Systems
Emergency lockouts
Broken key extraction
Installing high-security locks such as Medeco, Emtek, Mul-T-Lock, Assa Abloy, etc.
The Benefits of Hiring a Commercial Locksmith in Indianapolis, Indiana
If you own a business, hiring a commercial locksmith in Indianapolis, Indiana, company has many benefits. Here are some of the most important ones:
We're Experts in Their Field: When you call us for help, we will send a highly-experienced and professionally-trained locksmith. Commercial properties are our specialty, and we know how to get them up and running as quickly as possible. We'll also be able to fix any problems with your locks or doors so that everything is secure and safe for your customers and employees.
We Can Handle Any Size Job: Whether it's an emergency situation like a broken lock or just a routine replacement job, we can handle it all! We have experience working on everything from small businesses to large corporations, so no matter what size company you own or manage, we'll be able to help you out.
We're Affordable: We offer competitive rates so that our services will fit within your budget without sacrificing quality or service levels. Our goal is always to make sure that our clients are satisfied with their experience working with us so that they'll come back again when they need additional services like lock rekeying or key duplication services (just call us!).
Different Types of Commercial Locks in Indianapolis
Commercial locks are designed to stand up to the wear and tear that is common in a commercial setting. They are also more secure than residential locks because they have more moving parts and a higher level of security. This makes them ideal for protecting businesses, warehouses, and other commercial properties.
There are several different types of commercial locks available, including but not limited to:
High-security locks – These include keyless entry systems, biometric readers, and more. These are great for offices or other businesses that have many employees who need access to certain rooms or areas.
Electronic locking systems – These allow users to unlock doors remotely using their smartphones or computers. This system is perfect for warehouses where employees may not always be onsite but still need access to certain rooms or areas within the building itself.
Master keyed systems – These are used when there are multiple buildings that all share one central location, such as an office park, where each building houses different companies, but they all share one main entrance into the park itself, where they can all enter.
Commercial locks are complicated and require a lot of care. This is why it's important to have a locksmith who is familiar with commercial locks and can help you navigate the process of choosing the right kind of lock for your business.
At Mobile Locksmith Indianapolis, we will guide you in choosing the perfect commercial lock for your Indianapolis business.
Commercial Locksmith Guide: Rekey vs. Changing Your Locks
Have you ever asked yourself, "Should I rekey or change my commercial locks?"
If you've been thinking about switching up your business's lock system, you might be confused about the different options available to you. There are two basic ways to go: rekeying or changing your commercial locks. Mobile Locksmith Indianapolis, a commercial locksmith in Indianapolis, IN, explains what each option entails and why it's important to know the difference between these two processes.
Rekeying Your Commercial Locks
Rekeying is a process by which new keys are created for an existing lock system. This means that the pins inside the lock are adjusted so that they will accept different key combinations. Rekeying is generally used when there is damage to the cylinder or if one or more keys have been lost. It can also be used as part of a security upgrade for businesses that have experienced theft or break-ins.
Rekeying is ideal for businesses who want to change the types of locks they use without having to replace them entirely (and therefore incur the high costs associated with doing so). The process of rekeying is quick and easy: it typically takes less than an hour for our commercial locksmith to complete it!
Changing Your Commercial Locks
When a company decides to change its locks completely, it needs to know how many doors need to be changed and what kind of locking mechanism it'll use (deadbolt, lever handle, etc.). Once those details have been determined, the company will choose a new style of lock and install it on all applicable doors in the building.
You should always have new commercial locks installed when opening a new business or moving into a new location. This way, if anything happens to your old locks while they're still in good shape (like if someone tries breaking into your building), then they'll be replaced right away without being damaged any further by additional damage caused by trying to break through them after they've been damaged already).
Emergency Locksmith Near Me in Indianapolis
We understand that a lockout is more than just an inconvenience—it can mean lost revenue and productivity for your business. That's why we provide fast, professional service from start to finish. Let Mobile Locksmith Indianapolis help! We are your 24-Hour locksmith. Indiana is dear to us, so if you're locked out of your building, and you don't have time to wait for an appointment, we're here to help. We'll get to you fast and make sure that your commercial property is secure and safe.
Our technicians are certified by the National Locksmith Association and have years of experience working with all kinds of locks and keys—no matter how complicated they might be!
Our goal is to give you peace of mind by providing quality service and solutions that fit your budget and needs. We want to make sure you're satisfied with our work so that we can continue to serve you in the future!
If you're worried about the cost of our services, don't be—we do our best to keep costs down while still providing top-quality workmanship. And if you've never used our company before but would like more information or would like a free quote on your next project, just give us a call or send us an email today!
The Qualities of One of the Best Indianapolis Locksmith Companies
Here are some of the qualities you should look for when choosing the best Indianapolis locksmiths. Qualities that Mobile Locksmith Indianapolis is proud to have.
Honesty – One of the most important qualities to look for in a commercial locksmith is honesty. This is a professional who will be working in your building, and you don't want to have to worry about whether or not they're going to be trustworthy.
Reliability – When you need an Indianapolis locksmith for your business, you'll need someone who can be relied upon to show up on time and get the job done.
Experience – A good commercial locksmith has years of experience working with commercial properties and knows how to deal with the unique challenges that come with them.
Great customer service – You'll want someone who is easy to work with and will go out of their way to make sure customers are happy with their work.
Why Hire Us for Commercial Locksmith Service in Indianapolis?
At Mobile Locksmith Indianapolis, we know that your business is your livelihood. We also know that you depend on your building and its security to keep your business running smoothly. That's why we work hard to provide you with the best commercial locksmith service.
We are experts in commercial locksmith services and have been providing our customers with the best services for decades. Our team of experts at Mobile Locksmith Indianapolis has worked with businesses ranging from small to large, from hospitals to offices, from retail stores to schools and colleges, and so much more. Why choose a locksmith near Indianapolis, IN, if there's a reliable commercial locksmith like us who's willing to help you.
Whether you need us to repair or replace your locks, install new hardware on your doors or windows, or help you design a security system for your business, we will do everything possible to ensure that your project is completed on time and within budget.
You know what a hassle it can be when something goes wrong with your locks or keys—especially if this happens when it's late at night, and no one else is around! That's why when you call us, you will have access to a 24/7 emergency locksmith service that can get the job done quickly and efficiently.
And more importantly, our company was founded on the belief that everyone deserves reliable, affordable commercial locksmith service, regardless of where they live. So, if you're looking for a locksmith who can provide quality service at a fair price, look no further than Mobile Locksmith Indianapolis. Call us today!