Locally owned and operated, Mobile Locksmith Indianapolis, determined to deliver exceptional value to our clients. Locksmith services are fully insured in compliance with the regulations in the state of Indiana. Our experienced team of locksmiths is ready for your call 24 hours a day, 7 days per week including nights, weekends, and holidays. In any event or in case of an emergency, please contact us and one of our professional locksmiths will be dispatched immediately to assist you with your problem.
Locked Out of Your House?
If you're locked out of your house and need an emergency locksmith, look no further. We can get there fast and open your door with our state-of-the-art tools and skills. Or maybe you have a problem with your lock that needs to be fixed? If so, we've got you covered. Our locksmiths are highly trained professionals who will come to you and fix any lock issues in no time. Our services include everything from house unlocking to lock installation. No matter what type of job you need to be done, our team will show up on time and do the job right.
Get Locksmith Indianapolis at Your Service
When you're locked out of your home or business, it can feel like the world is ending. That's why we provide 24/7 emergency services. Our team of specialists is located in greater Indianapolis and will be able to assist you as quickly as possible so that you can get back into your house or office.
Lock Installation Services for Residential or Commercial Properties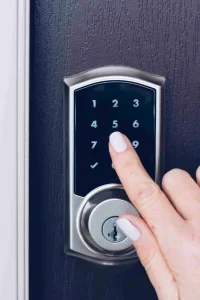 We also offer lock installation services for residential or commercial properties. If you're looking for a way to protect your belongings from theft, we've got an answer for you! We'll install new locks or change the ones you have so that they're up-to-date with today's standards.
Our company provides full-service lock and key solutions for Indianapolis. We'll turn your home into a fortress with our high-quality work. Therefore, give us a call today!
We'll help you get back on your feet so that your life isn't interrupted by a lock issue. We know how important it is to feel safe in your home or place of business, and we take that responsibility seriously.
A Car Key Locksmith to the Rescue
If you've locked your keys in the car, or even lost the key completely, a car key locksmith can help. We offer 24-hour solutions to ensure that you're never stranded without a way out. We offer some of the lowest locksmith car key cost in the area, whether you only need to get back into your car, need the key replaced entirely, or even need to have a new key programmed to work with your car.
When choosing a locksmith, car key prices are important to check, as many companies will not provide a free estimate on replacement, programming or labor over the phone. In fact, some "companies" are little more than scammers – ensure that you're working with a reputable, trustworthy car key locksmith.
Reputation
We're proud of the reputation we've built in Indianapolis and the surrounding area, and the level of trust we enjoy with our customers. It all comes down to doing what we say we will, offering the highest-quality service possible, and being there when you need us. If you're hitting Google searching for "a car key locksmith near me", you've come to the right place.
We can provide a full range of car key locksmith services for our clients, whether you're locked out, have lost your key completely, or just need to have a new key cut and programmed.
Our services include:
Aftermarket Electronic Car Keys
Car keys today are much more complicated than they once were. They're now embedded with microchips, feature remote controls for the car's alarm system, and more. Our aftermarket electronic car keys are identical to OEM equipment in fit and function, and provide an exact replacement. Our skilled car key locksmith experts can cut new aftermarket electronic car keys for virtually any make or model. Just get in touch, and we'll jump into action.
Duplicate Car Keys
Sometimes, the need for a car key locksmith isn't that much of an emergency, and more of a precaution. Maybe you've lost your key before and want to prevent it from happening again, or you want to give a copy to your significant other, or driving-age teen. We can help. We cut and program duplicate car keys for just such occasions (or when you've lost your original and you're stuck, of course).
Whether you're considering duplicate car keys, or you've locked yourself out of your vehicle and are now stranded, we can help. Our car key locksmith specialists are fully-trained professionals ready to get you back on the road as quickly as possible. Get in touch with us today.
Car Key Cutting
Once upon a time, car keys were pretty simple. They weren't all that different from the key to your home. That's changed today. Technology has transformed car keys from a simple metal shaft to a complex piece of electronic engineering. Even a seemingly basic key has a microchip embedded in it, and some keys are barely recognizable as such. What does that mean when you need to consider car key cutting?
Simply put, it means you need to turn to the experts, to the folks who understand not only the car key cutting process, but exactly how to go about it for different makes and models on the road. We have years of experience and expertise, and can offer car key cutting for classic cars, older models, and modern vehicles that use very complex electronic key systems.
Electronic Keys and Fob-embedded Models
We offer the widest range of blanks on the market, as well as electronic keys and fob-embedded models. This ensures that whether you're driving a Ford, a Honda, a Chevy or something else, we're able to ensure that you aren't stuck when you lock yourself out, lose your key, or the key breaks or is damaged beyond repair.
We're also able to offer expedited car key cutting. When you're stuck, speed is of the essence. However, you cannot sacrifice quality, either. We provide both. Our expert technicians can cut a replacement key for the one you lost in no time and get you back on the road. Even if you only need a duplicate car key cut to ensure that you always have a spare, call us today.
Car key cutting doesn't need to be an expensive, drawn out, frustrating process. Turn to the experts when you need help. Learn why we've become one of the most trusted locksmiths in the area.
Car Key Programming
In most instances, car key cutting is only half of the process. Yes, it transforms a blank into something that resembles your lost or broken key, but it won't work in your ignition yet. Most modern vehicles use an immobilizer system. If your key is not programmed, it won't work. In fact, trying to use an un-programmed or incorrectly programmed car key could result in locking the ignition down completely. We offer car key programming for nearly all makes and models on the road, from simple keys with embedded microchips to complex fob-style models that are more computer than key.
Equipment or Training
Car key programming is not only essential, but pretty complicated, and many locksmith companies simply do not have the equipment or training to provide this service. Sure, they might be able to cut the blank, but they cannot program the key. If they cannot offer car key programming, you're still stuck. This also means that you'll likely have to suffer through delays, only to have to go to the dealership, where you'll be charged an exorbitant amount to program that newly cut key. That's basically adding insult to injury. Why go through that pain? We can offer car key programming and cutting to ensure that you're able to get back on the road quickly, without hassles, and without paying those high dealership prices.
We use the same equipment and the same software as your branded dealership, ensuring that your new key is programmed correctly for the vehicle and that the immobilizer system is deactivated. It's really that simple. Call us and we'll be there as quickly as possible. One of our expert technicians will cut a replacement key, program it, and you'll be back on your way once more. It's so simple that it makes you wonder why anyone would ever deal with the agony of a dealership, or work with a locksmith that cannot offer car key programming in the first place.
Car Key Replacement
Disaster has struck – you've lost your key completely. It's gone forever. Or, maybe the key has been damaged to the point that it no longer operates, and repair is impossible. You now need car key replacement, and that's where we come in.
We offer car keys replacement for almost any make or model, import or domestic, new or old. Our cheap car key replacement service is not only affordable, but fast, efficient and accurate, as well.
Here's what you should know:
Car Key Replacement Cost
Car key replacement cost varies considerably from one model to another, although our prices are among the lowest you'll find. The actual cost you pay will be determined by several different factors. These include:
The make and model
The type of key in question
Whether the key needs to be cut, or cut and programmed
Don't waste time searching online for "car key replacement near me" call the experts and get back on the road as quickly as possible. If you're wondering where the best car key replacement services near me might be, you've found them. Our reputation for quality, low price, speed and efficiency means that we've become one of the top providers in Indianapolis and the surrounding area, and we're proud of that achievement.
Our cheap car key replacement options ensure that you're able to find an affordable solution to your hardship. There's no need to pay the exorbitant prices demanded by dealerships, or by some other locksmiths. We pride ourselves on integrity, and being there for our customers when they need us. That includes ensuring that our prices are fair. Your emergency should not be an excuse to charge high replacement costs, programming charges or service fees.
Lost Car Key
If you have lost the car keys, you might think that you're out of luck when it comes to having a replacement cut. You may believe your only option is to contact the dealership, but that's not the case. We can help if you have lost the car key. This is simplest if you have a spare, as we can use that as a template.
Lost Car Keys with No Spare
What happens if you've lost your car keys with no spare? Some locksmith companies need a spare to be present in order to cut a blank because they do not have the master pattern from the automaker. With us, that's not a challenge. If you've lost your car keys and no spare is available, that's no problem. We can still cut and program a replacement key for your vehicle.
Replace a Car Key by VIN Number
Your car has a unique number that is used to identify it to government agencies, insurance companies, auto dealerships and others. This is the VIN, or vehicle identification number. You can replace a car key by VIN number, but you'll need to have that number handy when you call us. Don't worry – it's not hard to find, and you should be able to locate it even if you've locked yourself out. The easiest place to find the VIN is on the dashboard behind the windshield. It should be located on the driver's side of the car, and is a small, metal placard stamped with letters and numbers. When you call, give us the VIN and the make and model, and we'll get to work.
We invite you to find out for yourself just how different we are, and how affordable our car key replacement services can be. Get in touch now and we'll get you out of your jam.
Auto, Home, Commercial, and Emergency Locksmith Services
We can answer any question about your auto, home, or commercial security. We also have the right type of hardware and systems to help you protect your assets. We are prepared to give you solutions for your specific needs and we work within your budget.
Our goal is to provide quick and efficient service for you, your family or business.
Professional Locksmith Services in Indianapolis Area
You may call our professional customer service representatives anytime at (317) 927-8333. You will not be disappointed. All work is guaranteed to your complete satisfaction and no less.
Making Keys for Car, Home, Business
In addition, we can assist you with changing out your locks, rekeying your home, installing safes, unlocking your vehicle and making keys for your car, home or business. We are the only locksmith service you will ever need to call. We have helped thousands of clients in all types of situations.
Mobile Locksmith Indianapolis' success lies in the expertise of our locksmiths and the quality of our service. With all of the latest locksmith equipment on hand, Mobile Locksmith Indianapolis can open cars, cut a replacement set of car keys, or simply cut a duplicate set of car keys. Our mobile locksmiths are happy to meet the customer at any hour and our prices are always affordable.
Car Keys Made Here
You would think that a locksmith would make their own keys, but that's not always the case. In fact, many of them just act as a go between with the dealership. Guess what that means? The prices the dealers charge are jacked up to ensure the locksmith can make a profit, and you foot the bill. We're different. Our car keys are made here, by our expert technicians.
If you need to get auto keys made, we're proud to help. We only need a few pieces of information to get started, and we'll provide you an exact replacement. Just a few of the situations in which our clients have needed car keys made include:
Lost original keys
Damaged original keys
Stolen original keys
Broken original keys
Shorted original electronic keys
Car Keys Made
Whether you've lost your key, had it stolen, broken it, or something else, when you need car keys made, we are your first choice.
You'll find that car keys are made for virtually any vehicle you might own, from that hand-me down sedan to the brand new coupe. From domestics to imports, we offer professional, affordable auto keys made with precision and accuracy. In addition to making keys, we also provide advanced programming for modern chip-embedded and fob-style keys so you don't have to deal with getting to the dealership. It's more than convenient – it's the way things should be done.
Call us today and learn firsthand why so many Indianapolis, Avon, Carmel, Westfield, Fishers, area residents are making us their first choice when disaster strikes. Don't let a lost, damaged or stolen key keep you off the road. There's no reason you should be stranded – our professional locksmith services ensure you're able to get back on the road as quickly as possible.
We Provide Reliable Locksmith Services
We've all been there before – you're running late, and shut the door to your house, only to realize that you've locked your keys inside and now cannot get into your car. Or, maybe you get out of the car at the office or at the store, only to realize that you've managed to lock your keys inside. Perhaps you've lost your car key completely.
It's a devastating situation in which to find yourself. Without that key, you can't go anywhere. You're stuck, helpless. Stranded. It doesn't have to be that way. We can help.
Mobile Locksmith Indianapolis has spent a great deal of time and effort making certain that you have the best experience possible whenever you need the services of a local locksmith. Call: (317) 927-8333 or use contact form.